Crew MC, Edinburgh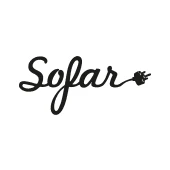 Sofar Sounds
Edinburgh, UK
Posted on Tuesday, October 24, 2023
About Us
Sofar is creating space where music matters. We bring artists and audiences together through live experiences and artist services that inspire creativity, community and joy.
Our unique live experiences provide a place for artist discovery, local community and connection in non-traditional, unexpected places across 78 countries and growing. Through our artist services, we provide tools and services for artists to directly connect with fans and build sustainable, creative lives on their own terms.
The Role
As a Sofar MC, you'll play an integral role in creating memorable experiences for audiences to discover new amazing artists. You'll be supporting our artists, creating a personal connection with the audience and opportunities for audience members to interact with the artists and with each other.
Sofar has worked with over 45,000 artists, hosted over 1,000,000 fans at shows around the world and engages with millions more online each month. You will be part of a music-adoring team who are passionate about creating an industry-leading culture that supports artists and introduces their music to new fans.
What you'll do:
Guide the show and make the audience feel welcome
Bring the show to life through audience and artist engagement
Be an artist advocate - support the artists, encourage the audience to support, follow and stream the artists
Represent Sofar to all artists and audience members
Work closely with the Crew team to ensure everything runs smoothly and on time
Discover and listen to amazing artists from around the world
Who you are:
You are a charismatic, engaging public speaker and comfortable presenting in front of a live audience
Experienced in public speaking and/or presenting live events
A musician or experienced in working closely with musicians in a live setting
You are reliable and are able to handle high-pressure situations
You have super strong interpersonal and problem-solving skills, especially in fast-paced situations
You have a strong interest in music and genuine connection to supporting artists
CPR/First Aid Certified a plus
Must be able to move boxes up to 50 lbs., with or without reasonable accommodation
You are able to work flexible hours, including nights and weekends on occasion must be available
At Sofar, our global team is deeply passionate about music and the work we do. If our mission and job opening resonates, you're encouraged to apply even if your experience doesn't precisely match the job description. We are committed to creating a culture of belonging and building a diverse team that reflects a variety of lived experiences, perspectives, and skills.